Many of us may think that camping should be done during fair weather or summer only and not during winter. However, winter camping also has its perks. You get a less crowded camping ground, likely with fewer bugs and critters to disturb your camp stay (no mosquitoes, yay!). You also get to enjoy the vast white expanse around your camp and to appreciate the snow-covered landscape.
All these experiences are possible if you have a reliable tent and camping gear with you. But although camping in winter can be an exhilarating experience, it's not without its challenges. You'll have freezing temperatures, colder nights, wind chills, and heavy snowfall to contend with. Therefore, it is essential that you select a camping tent that can withstand extreme weather. Below, we'll share some tips on how to choose a camping tent for the winter.
Examine the Tent Material
What you'll need from your tent is durability and water resistance to keep rain, snow, sleet, and dew out of your tent space. Camping and outdoor product experts from The Grit advise that you look for lightweight but durable tent material for easy setup and storage. Most tents are made of tightly woven nylon or polyester fibers. Nylon is lightweight and durable but has less UV protection than polyester. Polyester on the other hand has decent UV protection and absorbs less water to prevent sagging. Both materials are water-resistant, and additional treatments like durable water repellent (DWR) finish make them able to withstand and keep out large volumes of water and moisture.
Other important ratings to keep in mind are hydrostatic head (HH) ratings, which measure how resistant to water a fabric is, and the Denier (D) rating, which measures the weight and thickness of the individual threads in a tent's fabric. The recommended HH rating for winter tents is 2000 mm HH, and 70D for the Denier rating.
Check the Tent Style and Shape
There are two common choices when it comes to tent style and shape: the cabin-style tent or the dome-shaped tent. Your choice may depend on the camping activity, the location of the campsite, and how you plan to get to your campsite.
Dome-shaped tents are ideal for very cold winter camping. Their hemispherical shape is designed to withstand extreme weather, especially strong winds. The shape also is advantageous for preventing snowfall buildup, which can be dangerous for tent occupants. These tents are light-weight, compact, and space-efficient, making them easy to carry and set up anywhere with sufficient space. If you are planning to camp somewhere in Northern Europe, Canada, Alaska, or at places close to the North or South Poles, this kind of tent makes a good outdoor camping shelter.
Cabin tents are also good for winter camping, but more favorable in places with mild snowfall and consistent weather and temperature patterns. The tent's shape is patterned after a log cabin, having four walls and a sloping roof. This shape is also ideal for preventing the accumulation of snow and rain at the top of the tent. This tent is heavier compared to the dome tent, so it is not recommended if you are planning to hike to your camping site. The tent's large size makes it ideal for camping with your family or friends as it can accommodate more than one occupant.
See also: What Camping Tent is Best for a Large Group
Consider the Insulation
It's not enough to keep the rain and snow away from your tent. You also have to consider how you will be kept warm and comfortable while inside the tent. For that purpose, you need a 4-season tent or a winter tent to give more insulation, especially during winter camping. You need additional protection from condensation, wind chill, and sudden temperature drops, which is why an airtight design that keeps the cold winds outside is a must.
The number of zippers and openings can also affect the insulation that your tent can provide, as the more zippers your tent has, the more vulnerable you are to the wind and cold temperature. If you are camping alone, you'll need fewer openings on your tent to keep you well-insulated. If you are camping with your family or friends, a tent with more openings is preferred for easy entrance or exit from the tent and less disturbance of other occupants, especially at night. You can also look into getting a good tent heater for camping to keep you warm and comfy inside your tent.
Size Matters
Both cabin-style and dome-shaped tents come in different sizes. Before you decide on the size of the tent, you also need to consider your intended sustained use of the tent. If you are the type who usually goes on a solo camping trip, then select a one-person dome tent for maximum comfort and protection. Using a larger tent for a single-person use can be dangerous in winter camping.
If you are the type who loves the company of family or friends when camping, selecting a large tent with extra space is recommended. Give extra two spaces for the occupants to allow more freedom of movement and room for keeping things like your hiking backpacks and other gears.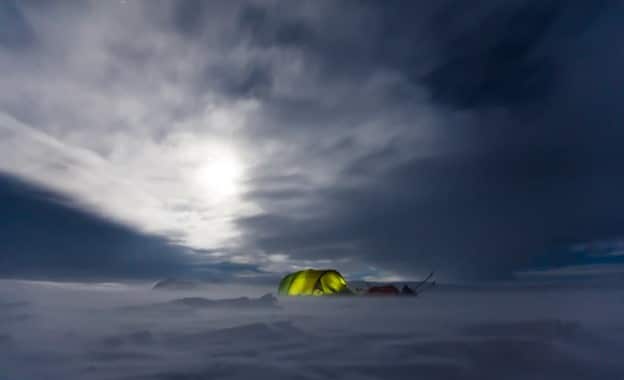 Conclusion
Selecting a tent for winter is just the same as selecting a camping shelter for other seasons: you need to adapt it to the season. There are certain considerations to take into account, and it is important that your tent and camping gear are suitable for the weather conditions. Cold temperatures, sudden strong winds, and potential snowfall are major concerns in winter camping.
When you have the checklist we provided above and other items from your camping preferences covered, you can fully enjoy camping in winter. Don't forget a thick, 4-season sleeping bag, warm clothing such as a good heated jacket and heated pants, and a stove to make hot food and drinks to help keep the cold at bay on your camping trip.
See also: